There are two questions that automatically come to the mind of any entrepreneur who has a shortlisted Magento platform for web-shop development - Does Magento2 fit my business? What is the price for Magento 2?
If you are able to answer the first question, depending on your position in the market and the objectives you have set for yourself, we will try to give you an answer to the second question so that you know what to expect.
Understanding Magento 2 prices can be difficult. It is not a simple platform with fixed prices. The cost you'll have to bear depends on a lot of things: the size of your business, themes and the extension, hosting services, and the developers you hire.
The price of Magento for some stores can be 3,000 USD, and for others, it can reach up to 100,000 USD per year. Given that we can't give you an accurate estimate of the cost your business will have to bear, we can give you a fairly accurate estimate of what your investment will look like.
Magento can offer you two types of plans:
MAGENTO 2 OPEN SOURCE
The Magento Community Edition or Magento Open Source is free. You can install it at no cost from the Magento website. But, you will have to bear development costs, hosting costs, themes and extension costs, etc.
MAGENTO 2 COMMERCE EDITION
This is the paid edition. It previously appeared in two variants, Magento Commerce and Magento Commerce Cloud. But now these two have been combined to form the Magento Commerce edition that includes cloud hosting in fees.
TRADE PRICES MAGENTO 2:
Magento Commerce prices are based on revenue levels. A store that earns less than $ 1 million has to pay $ 22,000 a year, while a store that earns about $ 50-100 million has to pay $ 250,000 a year
MAGENTO 2 COST COMPARISON TABLE: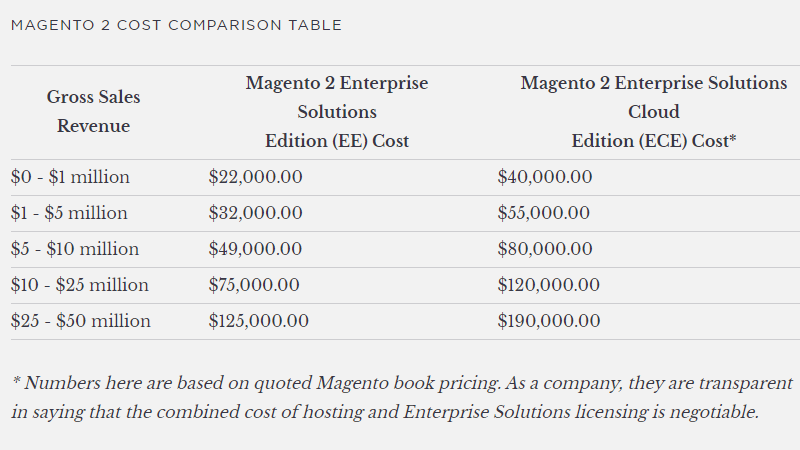 Image source: https://graybox.co/
Prices for level 2 Magento make better sense for store owners who are at the top of the price range.
For example, paying $ 32,000 a year for a store owner who earns $ 1-2 million a year could be slightly expensive. While the same cost is not too high for a store owner with an income of 4-5 million dollars a year.
Magento Commerce offers a complete hosting environment, along with additional benefits such as easy scalability, improved support for multiple administration users, the Visual Merchandiser tool. 24 × 7 support and so on.
However, development costs still have to be borne separately by the store owner. You'll need to hire developers to manage your store's frontend design and backend techniques.
Similarly, the cost of extensions and themes will also be separate. 
MAGENTO 2 PRICE OPEN SOURCE
1. MAGENTO THEMES & COST EXTENSIONS
Magento is revered for its high customization. But it has a cost.
A. THEME
Magento themes cost around $ 20- $ 1000 or more for the Premium options that usually come bundled with additional extensions. One example of this is our very own Pearl Theme for Magento 2. There are also some free themes available, but the number is very small.
If you don't want to go with pre-built Magento themes, you can:
     -Buy a cheap, basic theme, and ask your front-end developer to customize it.
     -You can also create a custom theme from scratch with the help of the developer.
Note: keep in mind that developers will cost you between $ 15 and $ 100 per hour, depending on their expertise. It is best to hire independent developers for front-end design tasks, as you will not have to change your website design on a daily basis.
B. EXTENSIONS
Magento Open Source offers over 5,500 extensions, ranging from $ 0 to $ 2,000.
The cost, again, depends on your demand for functionality. On average, you will need 5-10 extensions for your store. This can cost you between 1000 and 3000 USD, depending on the extension you choose.
Also, with extensions, you can purchase basic extensions and customize them by a developer. It will also include costs for developers, which will be more compared to themes, as extensions will be customized by a developer backend.
It is recommended that you hire a full-time developer for extension-related activities, as extensions are the modules that help you work in-store. You can also build extensions from scratch.
2. HOSTING COST
Choosing a hosting service carefully is extremely important. Magento is a resource-intensive platform. As a store owner, you wouldn't want to focus on server management challenges when you already have a lot on set.
A hosting service will take care of the operating speed, security, uptime, domain requirements of your website, so you can focus only on developing your business.
There are three types of hosting services:
A. SHARED HOSTING
Shared hosting means that you will share its servers and resources with other websites. Although it is cheaper than other hosting options, your site will leave you more susceptible to security risks due to a faulty environment.
B. DEDICATED HOSTING
In this type of hosting you will be able to keep an entire server for you. Security is much better, but you pay a fixed cost. So, even if you do not use all the resources, you will have to pay the full amount.
C. CLOUD HOSTING
Cloud hosting is the best option for hosting today. It gives you a scalable solution and resources dedicated to you.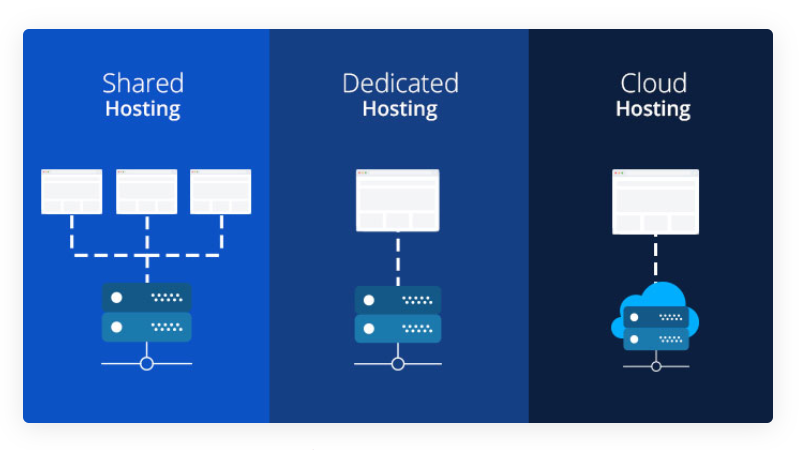 Image source: https://cloudways.com
3. MAGENTO DEVELOPMENT COST
This portion will be an important part of your cost. The developers you hire will take care of the design and functionality of your site, which is why it's important to make sure you hire only the best talent.
For development, you can hire:
A. AN AGENCY
An agency will charge you approximately 25 - 300 USD per hour, depending on their level of expertise and the amount of work you need.
While hiring an agency is the most expensive option, it offers maximum value for money. You will get certified Magento professionals with credible experience. They will have the expertise to bring your vision to life and you will not have to worry about managing them.
B. A FREELANCER
Freelancers typically charge between $ 10 and $ 200 per hour. This cost will largely depend on their level of expertise and experience. It also depends on their location.
The cost of employment in Asia is considerably low (10-20 USD per hour) compared to the USA and the United Kingdom.
C. IN-HOUSE DEVELOPERS
Hiring in-house developers is certainly the most convenient method. A team completely dedicated to your store will ensure that everything about your website is top-notch.
Moreover, they will work completely according to your needs and you will have more control over your website.
The cost of hiring an internal team depends on the country where you live, in addition to their level of expertise. If you hire a junior developer, it can cost you between $ 200- $ 800 per month. While an experienced developer can charge you about $ 60,000 - $ 120,000 a year.
4. DOMAIN COST FOR THE STORE
One area is what everyone will know about you. So, it is important to choose a domain that matches the chosen name. Always remember to choose a name that is appealing and not too complicated for people to remember.
     You can buy either:
A new domain that will cost you $ 10- $ 15 a year.

An expired domain that can cost you around $ 20-500 per year, depending on the domain authority of the website.
BONUS: MAGENTO 1 FOR MAGENTO 2 COST OF MIGRATION
Store owners who already run their Magento costs will have to migrate to Magento 2 if they haven't already.
The cost of migrating from Magento 1 to Magento 2 depends on:
The amount or size of data stored on your website.

The size of your business

The number of themes and extensions you have installed.

Designing your website.

The number of integrations (such as payment gateways, business applications, etc.) you have.

How many static pages, blogs, resource pages, etc. you have on your site
Small business owners have to spend about $ 4,000 to $ 5,000 on migration. It may be less complicated for them, as the amount of data stored would be relatively smaller. A large-scale business owner may have to pay up to $ 50,000 for migratioN. 
This cost will, in principle, depend on the services you employ for migration tasks, as well as how long the migration will take.
FINALLY:
We tried to give you a detailed idea of ​​the prices of Magento 2. As we said, it varies from store to store. If you want a better estimate of how much your store can cost, you can talk to our experts!