Magento 2 Order Tracking and SMS Notification.
The Magento 2 Order Tracking and SMS Notifications extension requires creating a WeSupply account. WeSupply is a 3rd party service powered by WeltPixel. Create your WeSupply account and START YOUR FREE TRIAL here. FREE PLAN AVAILABLE - Get it now while it's still available!
WeSupply also supports
Returns / RMA
and
Store Locator
functionalities.
ABOUT MAGENTO 2 SMS NOTIFICATIONS, SHIPMENT TRACKING & ORDER STATUS PAGES.
It's no secret that one of the most stressful aspects of online shopping takes place after you make a purchase. Until the order status is complete and delivered, the classic anxieties show up all the time.
The user experience with your website, services and products is not a thing of the past. A great buyer experience and a hassle-free post-purchase experience keeps dictating how fast can scale the customer satisfaction
Is the product looking exactly as described on the website? Is it going to arrive in time for the holidays or a particular event? These are the types of questions your customers are dealing with after making a purchase.
If you ever felt what shopping anxiety looks like, you are not alone! Also, your customers most likely feel the same way when interacting with your brand!
Most probably, you've already adopted 3rd-party couriers to track all your packages, but is that truly improving the customer experience? Simply looking after a UPS tracking number on a shipping label doesn't answer the main question your customers usually have - when is my order going to arrive?
In fact, confusing order tracking websites and misleading shipping statuses are leading to even more frustration. Ultimately, this culminates in the number one call that contact centers are bombarded with, "where's my order?". You don't need a Magento UPS tracking integration or with other major carriers, we take care of all once we have the tracking number! We support over 100 carriers all over the world, and the major ones: UPS, USPS, FedEx and DHL.
Rather than sending the standard sales email, you can send SMS texts to your customers with the order tracking status. Use short text messages to inform customers when their package is shipped, when it'll arrive and if a shipment exception happens.
If any of the above scenarios sounds familiar, that means you need a Magento 2 Transactional Emails solution. Today, having complete control over the shipment and customer tracking experience is essential. An easy to use Magento order tracking extension that puts you in the best possible position to serve your customers.
BENEFITS OF THE MAGENTO SHIPMENT STATUS, ORDER TRACKING PAGE, AND SMS NOTIFICATION EXTENSION.


Proactive Shipment Emails, SMS Tracking Notifications, and a Branded Tracking Page.
Post-purchase email automation with over 15 Shipping Tracking Emails and SMS Notifications.
Seamless ecommerce shipment tracking without links to 3rd party shipping services.
Branded tracking experience with 100% CSS access to the Tracking Page.
Order confirmation email showcasing multiple shipments.
Checkout Success Page phone number autofill for SMS notification subscription.
SMS subscription box on View Order Page to subscribe later/unsubscribe.
Magento 2 Track Order URL in Shipping Emails and SMS.
Use your Branded Email address to send notifications from - via our AWS integration.
Branded domain for a seamless post-purchase experience via Alias Domain setup.
Track orders without login with a simple click/touch.
Shipment Exception Management via Delivery Exception Emails.
Estimated Delivery Dates in Shipping Emails.
Send Backorder Status Updates with Custom ETA.
Order Delayed and Order Canceled Notifications.
Ecommerce Tracking Software that integrates with Product Recommendations services to show product banners in shipping emails.
Shipping Carrier Integration with major carriers: UPS, USPS, FedEx, DHL and 100+ others all over the world.
Find orders by order number/order ID and email.
An integrated SMS Service via world best SMS Gateway Services - Twilio.
View Order pop-up embedded in My Account section of your Magento 2 store.
Track Revenue with Google Analytics integration.
Tracking Link in the top menu section of your Magento 2 store.
Payment method information and shipping rates displayed on shipping notifications.


A Branded Experience that pays for itself and more.
Reduce ''where is my order'' calls and drive additional revenue through proactive transactional emails.
Save money by decreasing customer support calls - the average cost of a ''where is my order?'' call is $5.05* (source: Adobe)
Keep customers in a branded experience even after they make a purchase.
Open a new marketing channel beyond email and the mobile app to build relationships with customers.
Drive additional revenue and repeat visits.
Branded tracking pages.
Branded email notifications
An omnichannel experience.


An Ecommerce Shipping Tracking Software to measure the customer journey from pre-purchase to post-purchase.
Back-end analytics that can pinpoint operational areas for improvement with easy-to-understand dashboards.
CTR and Open Rate for both Email and SMS via our Analytics Dashboard.
Insights on how to increase customer satisfaction and engagement.
Integrates with Magento shipment statuses.
A customer feedback module with charts and statistics.
A feedback module
 with dashboard.
Customer activity reporting
.
A window into carrier performance.
Statistics and analytics dashboard.
Get your Magento 2 Order Tracking Extension, Free Plan available to start with! You can find more details and information on the Pricing Page here. Connect your Magento 2 store to WeSupply and everything works out of the box!
ARE YOUR CUSTOMERS CONSTANTLY ASKING YOU ABOUT THEIR ORDERS?
As we mentioned earlier, the biggest customer post-purchase needs all center around their order status. Did you know that on average, 30% of customers will reach out to customer support asking "where is my order"? Therefore, it's important to keep one thing in mind during your quest in optimizing your customer experience. If you're looking for a Magento transactional email extension that puts you and your customers in control, we can help!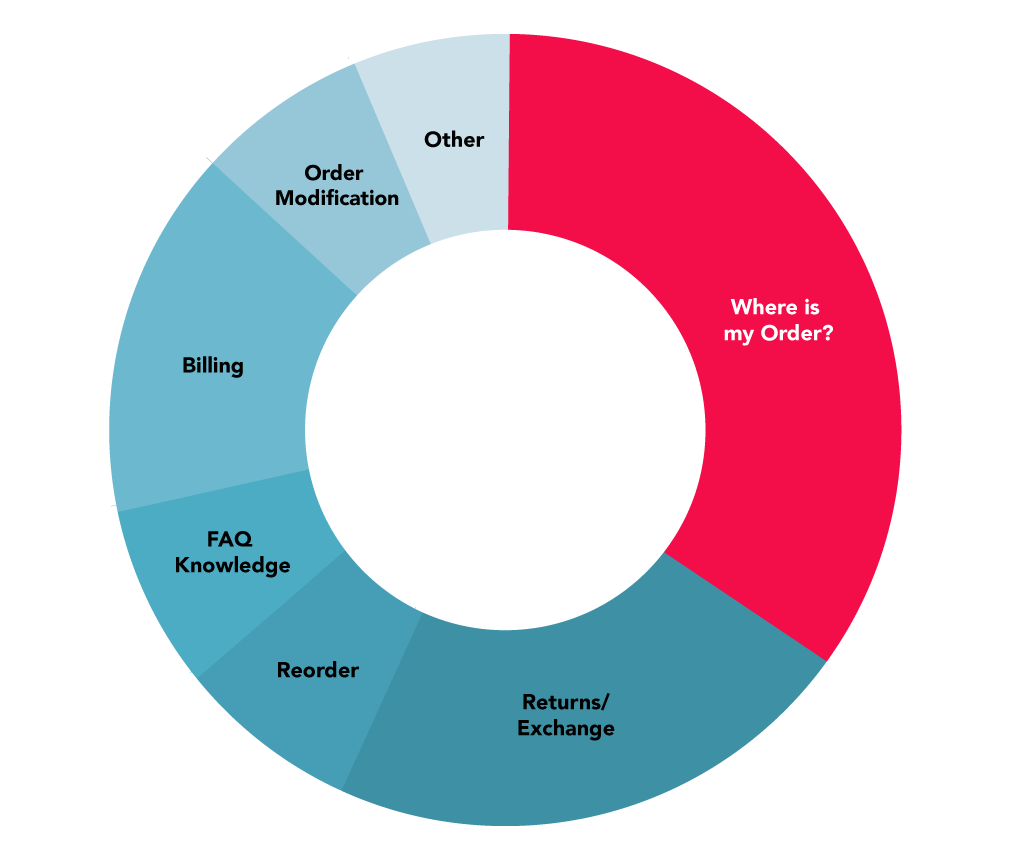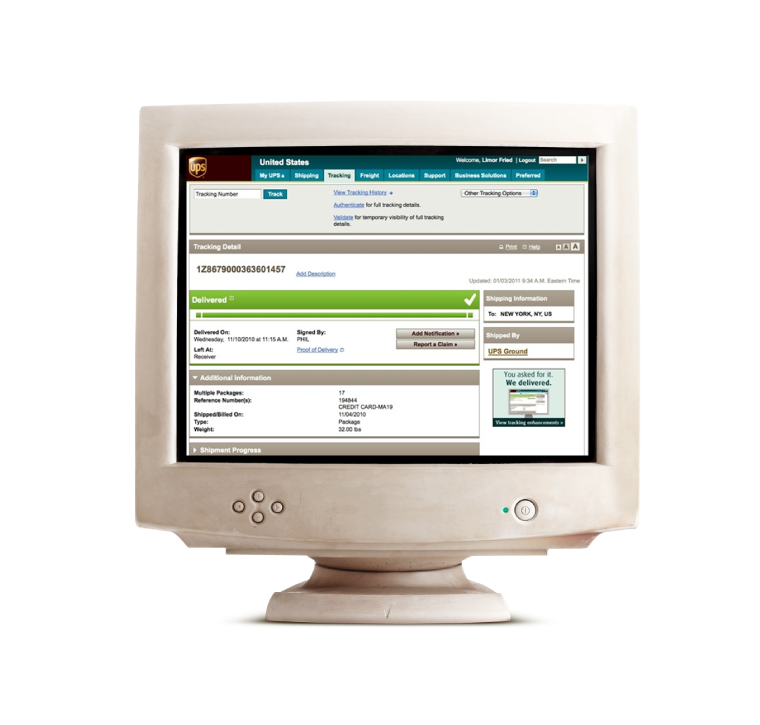 STOP EXPECTING YOUR CUSTOMERS TO CHASE THEIR PACKAGES ON ARCHAIC 3RD PARTY WEBSITES.
In a perfect world the post-purchase process would be easy. Create shipment, give out tracking number, and wait for customer to receive the package. Unfortunately, as anyone in the eCommerce industry will tell you, that is not the case..
First of all, expecting your customers to find information on their own isn't easy for them. Whether the Magento shipment email tracking link gets lost in their inbox, they forgot their password, or they're simply having a hard time copy & pasting into a 3rd party portal - the end result is the same; a high effort experience that is sure to leave a bad taste in their mouth! This journey of finding the correct information often results in frustration and customers refusing to shop with you.
PROACTIVE NOTIFICATIONS!
EASY TO UNDERSTAND TRACKING PAGE!
FULLY BRANDED EMAIL & SMS!
We group all items in an order along with the Magento shipping tracking number, as well as all information about the package's location. And most importantly - we show your customers the arrival time! On top of this, they have the choice of both email and SMS notifications.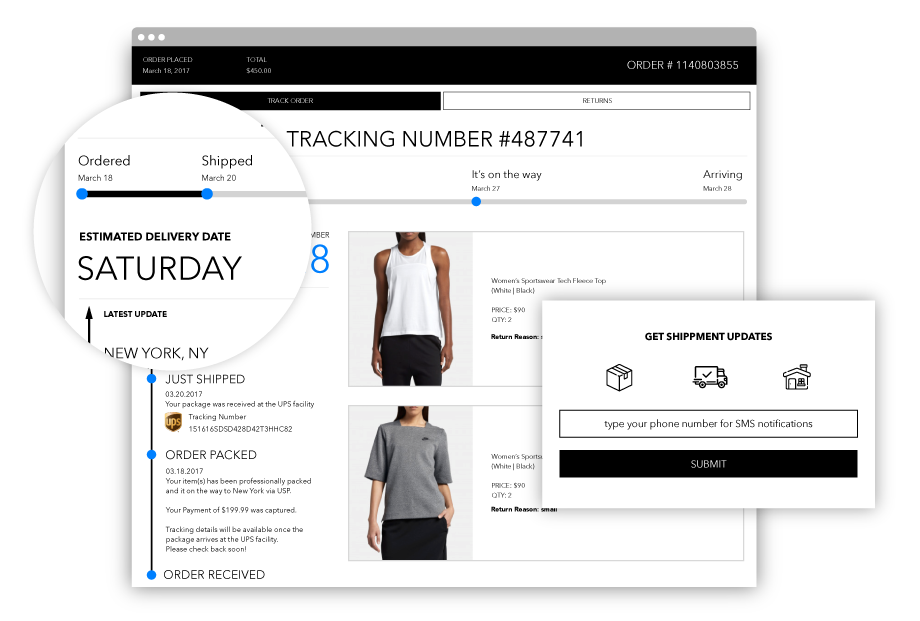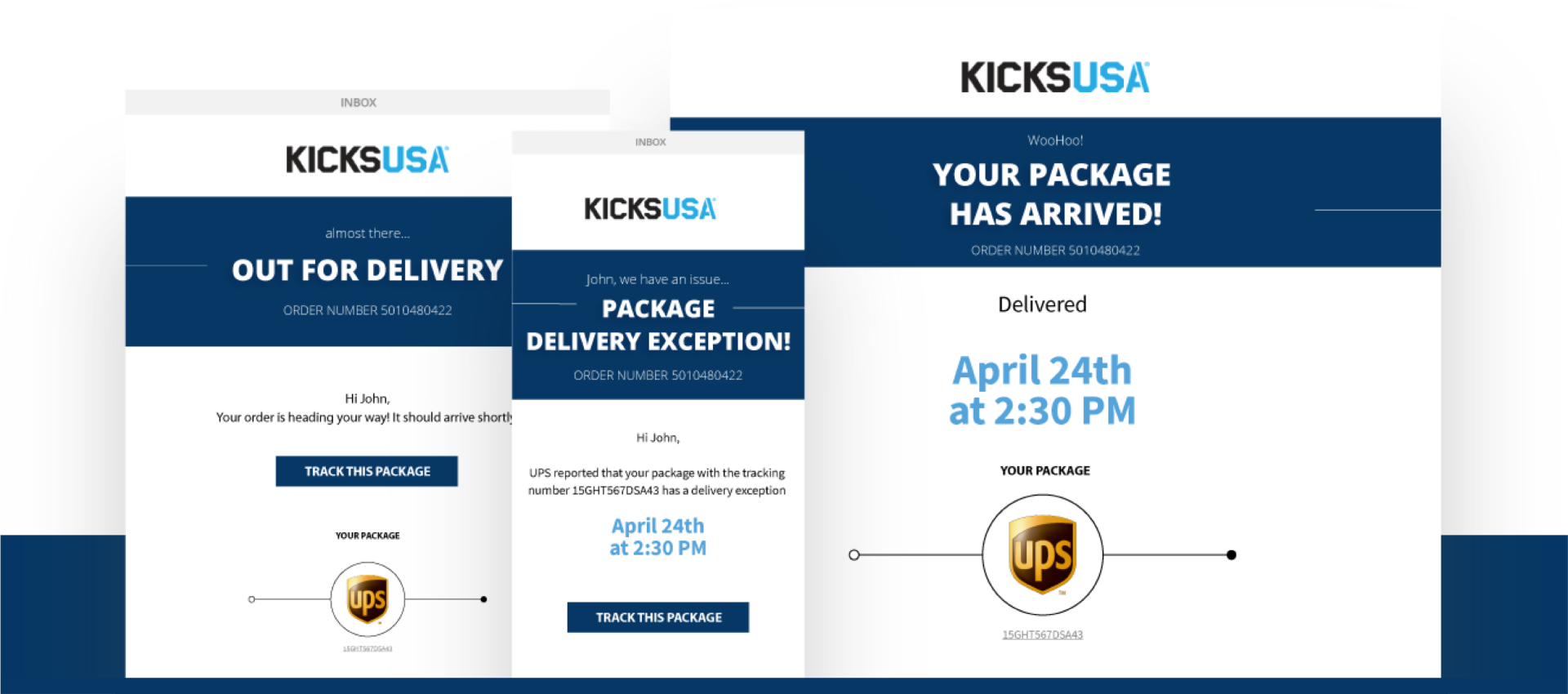 "OUR SOLUTION IS A SIMPLY ACCESSIBLE ORDER TRACKING PAGE WHERE CUSTOMERS CAN QUICKLY FIND ALL THE INFORMATION THEY NEED."
Over 50% of online shoppers say they would choose a store based on proactive tracking information. By optimizing Magento order notifications you can tell the customer exactly when their package will arrive, without making them search.
Big brands like Amazon have set the bar very high for a post-purchase effortless experience. And savvy shoppers are beginning to expect this with any and all online transactions. And sometimes even opting to pay more! In today's busy world ecommerce really boils down to ease and convenience.

During busy seasons, your tracking information emails can easily get lost. Whether they are banished to spam folder or simply mixed up with too many other incoming messages, the end result is the same; a confused customer. That's why over 80% of people surveyed said they also prefer a simple tracking page and proactive notifications from you. Customer data proves that both SMS and tracking pages work in conjunction with email to offer the shopper a full experience - one channel alone is not effective!

At the end of the day, can you blame your customers? We all want to know every step of our online orders. When it's shipped out, where it's coming from, when it's expected to arrive, any delays, when it's out for delivery, and of course when it's finally at the doorstep. The reward for providing this proactive communication? Oftentimes it can be reflected by a 25% increase in customer satisfaction. Not too shabby, huh? Check out below for more details about our Track Order for Magento 2 solution.
MULTI ITEM ORDER TRACKING FOR SPLIT SHIPMENTS.
In a multi item, split shipment scenario, the customer's quest for information is even more complicated. By not explaining which item will be included in which shipment or not showing a delivery date, you'll almost certainly get some angry calls.
How do we differ from default Magento order tracking? Well, for one we communicate directly with your customers right from the beginning of the transaction. We explain that the multi-item order is going to be split up into multiple packages and give the desired tracking information for each. This relieves your customers and mitigates any risk to their faith in your Magento order processing flow. It's not lost or forgotten, it's on the way!
We achieve this by proactively notifying the customer via email and SMS to provide their Magento track order url. This makes them happy, especially when they get the notifications that their orders are on their way!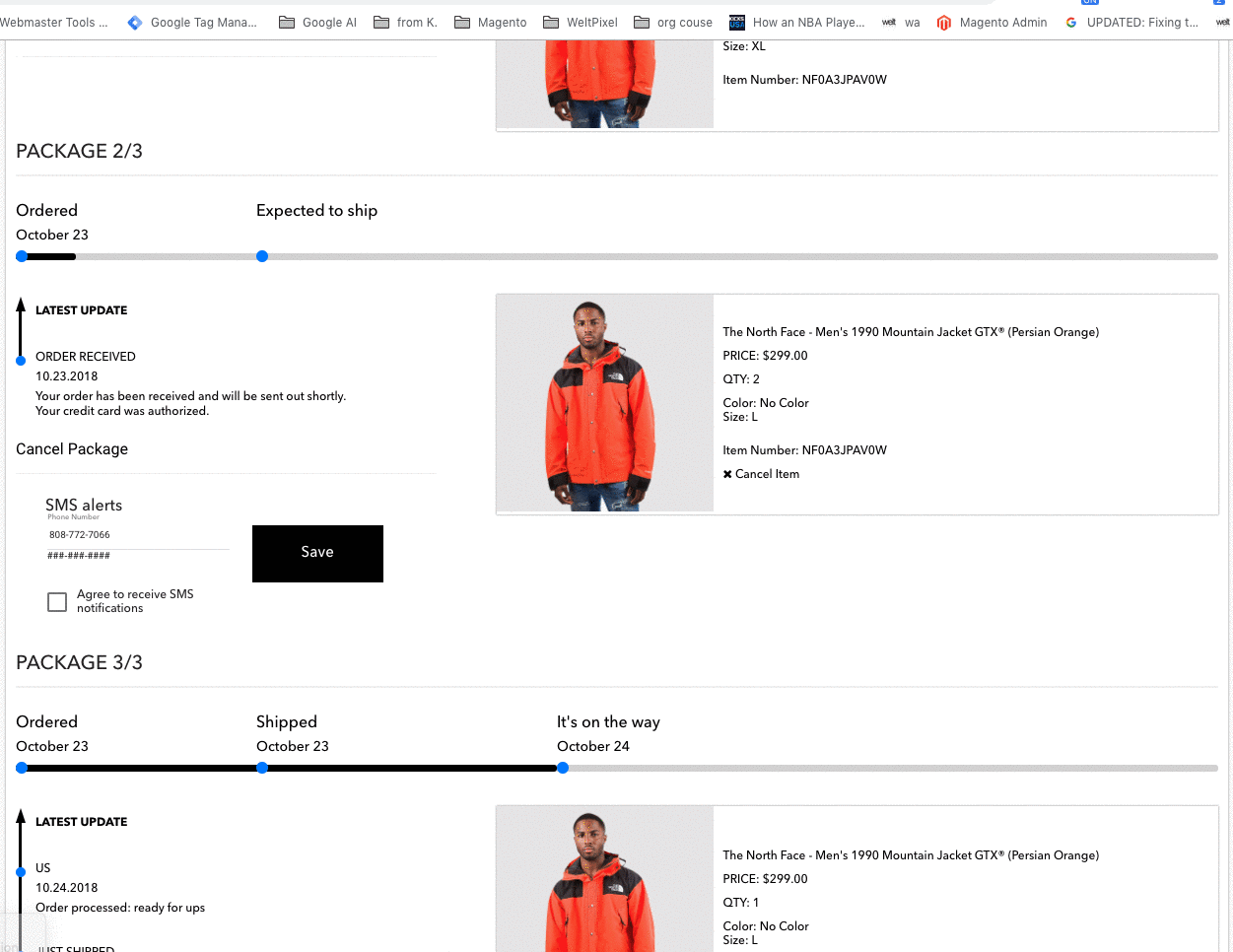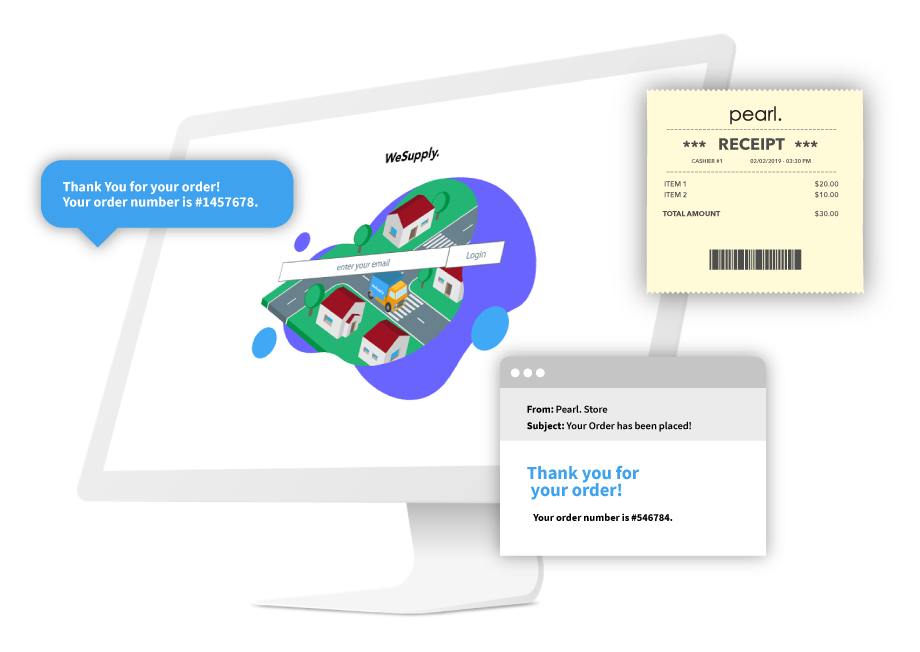 OMNICHANNEL ORDER TRACKING
EASY AS 1, 2, 3 :)
Do you currently have an omnichannel solution in place? Do you get the orders from stores and then process them using an OMS or WMS system? Does your business usually reship lost orders just to discover that those never make it into Magento? These things might rapidly become complicated, but we feel you!

It can happen that the POS system in stores is not connected back to Magento. So "Buy in Store, Ship to Home" orders go through but don't have a place to be checked up on. When the Magento 2 order status flow is disrupted your customers are left in the dark! And that's something to consider.

We centralize all of the orders from your website, apps, marketplaces, POS, OMS, and WMS to create one seamless experience.
DECREASE CUSTOMER SERVICE COST & WISMO CALLS WHILE IMPROVING THE SERVICE.
During peak and holiday season you usually hire some extra customer service reps to field the influx of "where is my order" calls. In fact, most companies invest an additional 25% in added support. It should come as no surprise that when you calculate cost per call the results may not be ideal.

As you already know, this is actually when your company should be on the hunt for cost saving solutions. Whether you're saving money to keep up with your competitors' aggressive promotions, to reduce the rise in stolen packages, or to invest in customer support, you know every penny counts.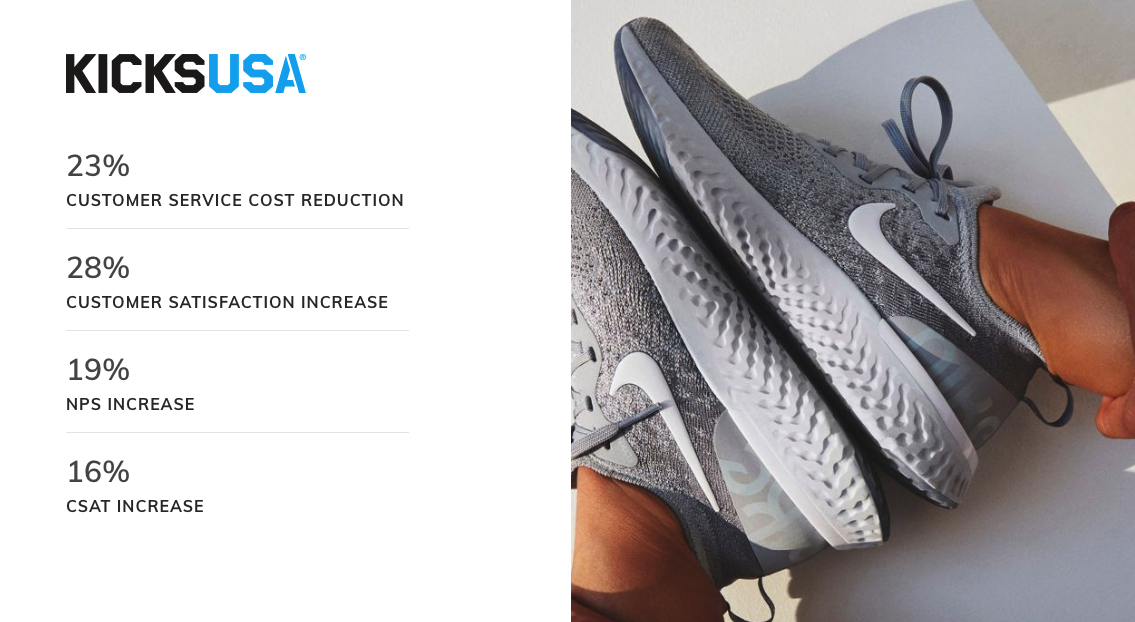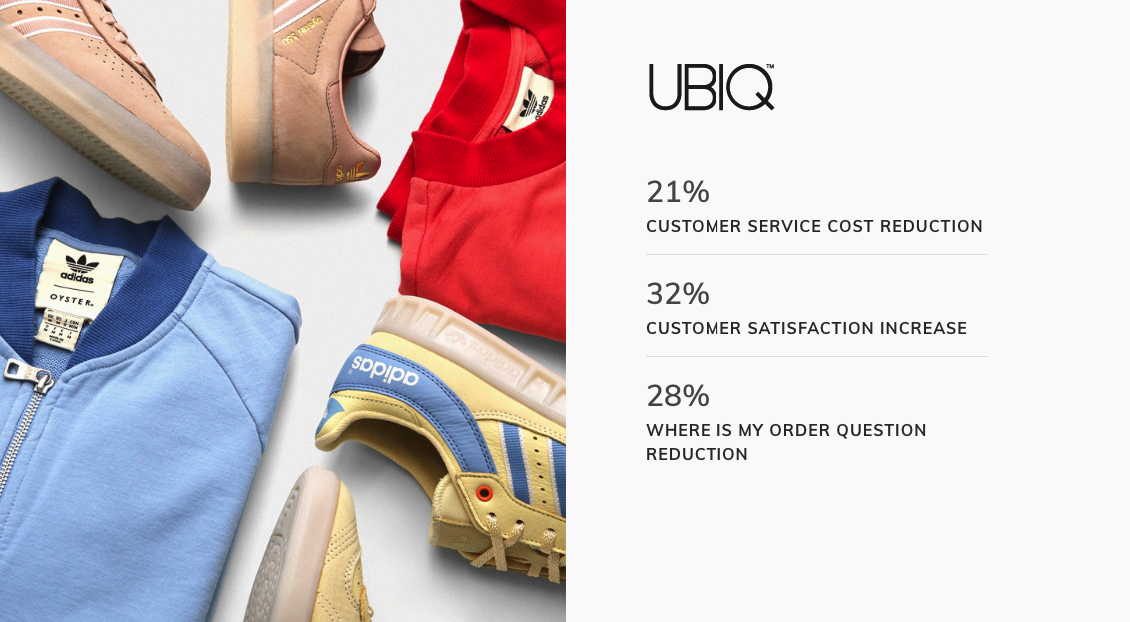 THE SOLUTION THAT PAYS FOR ITSELF AND GIVES YOU THE OPPORTUNITY TO EARN WAY MORE!
With our solution, clients were able to significantly reduce the cost of customer support calls. This can be a true customer service cost benefit analysis leaning in the right direction! What's more they were able to increase revenue by re-engaging with customers after the initial purchase..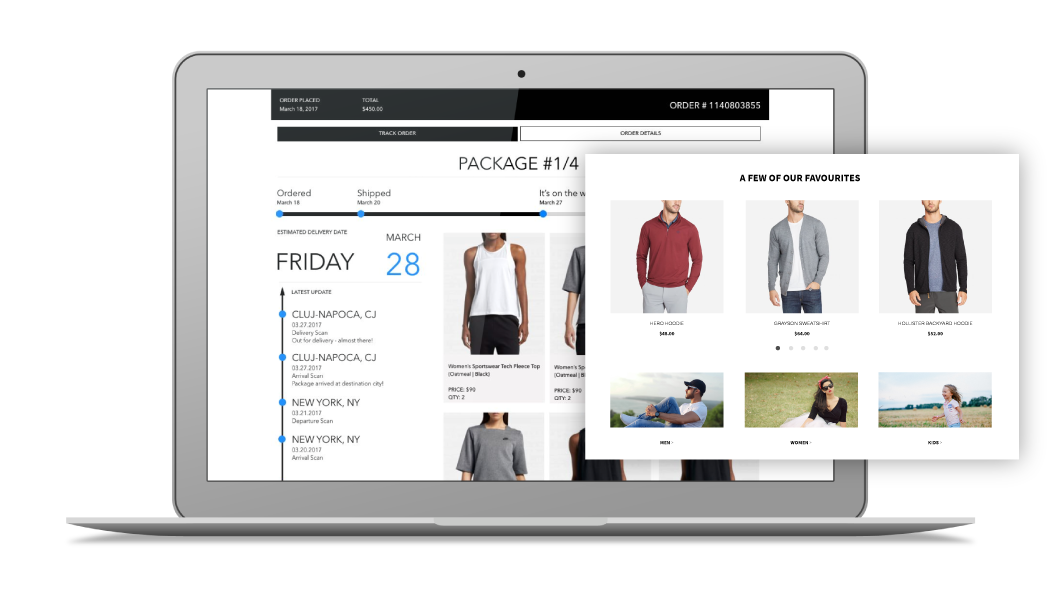 DRIVE MORE SALES FROM YOUR EXISTING CUSTOMERS.
"Offer your customers a branded experience within the Tracking Page or emails and generate more revenue by re-engaging with them."
Your customer is dying to hear from you after the initial purchase. Their eagerness to learn about their order has them checking their Magento get shipment tracking number up to three times before the package arrives.

What does that mean when you have actually made the sale? Simply re-engagement! This is the best opportunity for you to show them similar products, or present them more information about your loyalty program.
BRANDED TRACKING PAGE
MAKE EVERY EXPERIENCE SHOPPABLE!
Using our Magento order tracking extension frees tons of potentially lost revenue with found creative real estate! Both Tracking Page and SMS notifications can be customized for your brand - you display your own logo, brand colors, and styling. There are also multiple areas to promote the latest sales, new products and point to trending categories on your site. This way you can teach your customers about similar items that might help them better utilize their recent purchase.

If your customers track their orders via SMS, there is a tracking link that takes them back to the tracking page. Another chance for your ecommerce store to generate upsells!

The same opportunity also exists in notification emails. Your consumers don't need to be subscribed to your marketing email campaigns to be updated on anything related to their order! We send transactional emails so they don't have to reach out to your customer support service.

Did you know that a transactional email has a 3x better open and click rate than a marketing one? Interesting!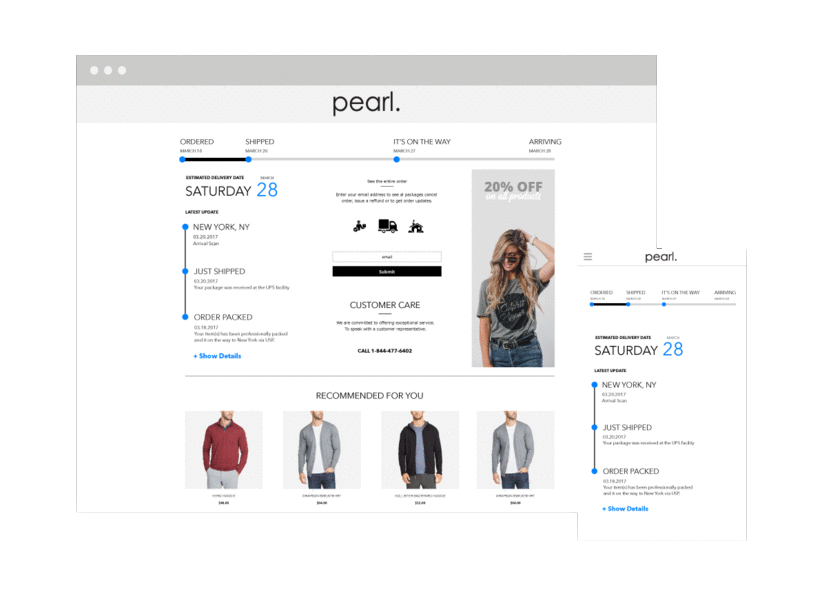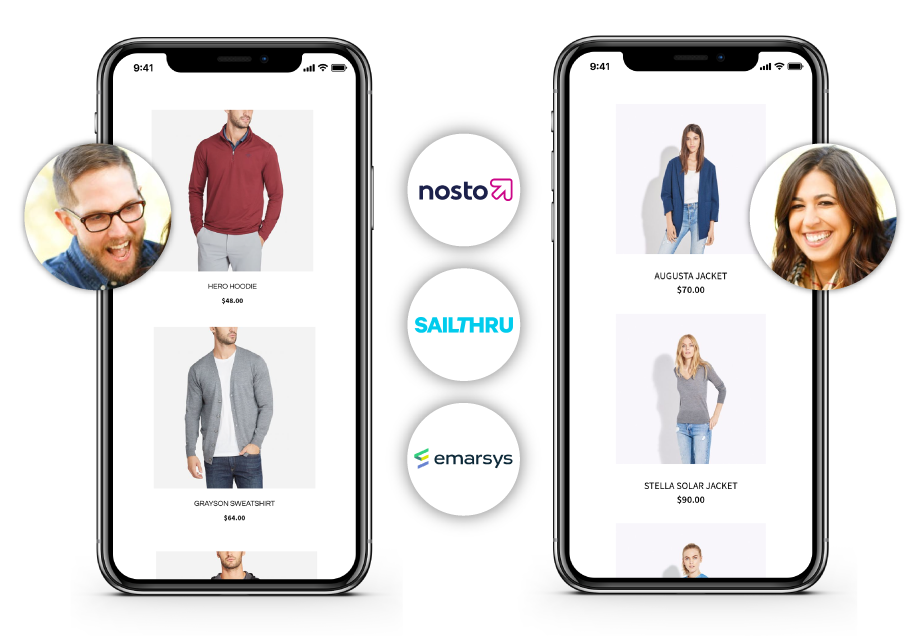 1:1 PERSONALIZATION WITH YOUR FAVORITE BRANDS.
We know many companies are already utilizing personalization solutions from brands such as Nosto, Sailthru, and Emarsys. Our extension lets you leverage all of that hard earned intelligence even further!

Personalized product recommendations or dynamic banners can be integrated within minutes into the tracking page or the emails.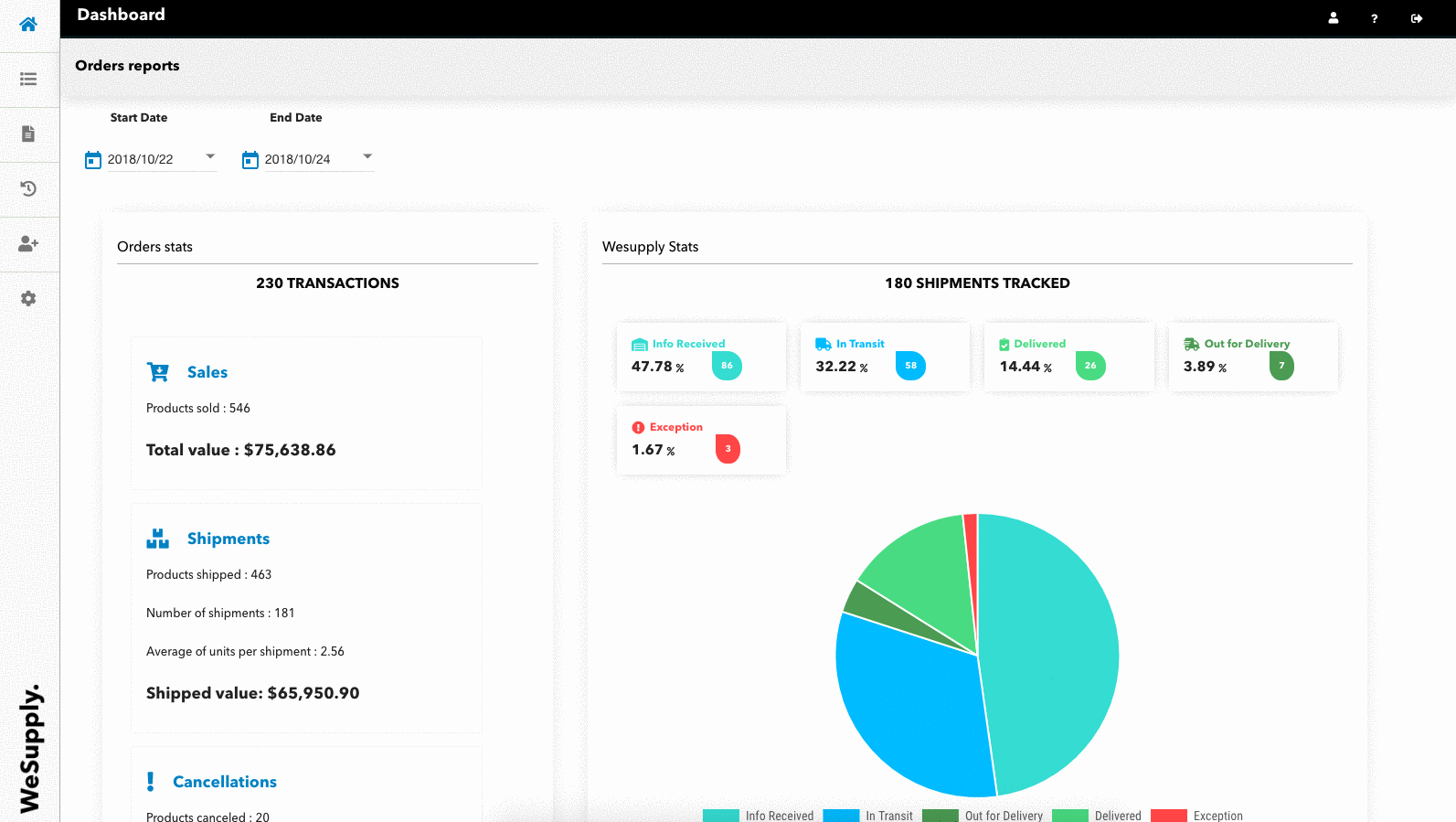 A SOLUTION THAT YOU CAN MEASURE.
Knowing you have the chance to offer a better experience to your customer is good, but you must be able to measure its success. Optimizing the post purchase experience without the necessary data is not only complicated, but not a best practice. We offer ways for customers to measure customer satisfaction with a viable CSAT solution. If you're looking to improve customer satisfaction for your store, WeSupply helps you with your ecommerce conversion tracking!
MAGENTO CUSTOMER SATISFACTION - CSAT SURVEYS.
We make it easy for you to survey your customers regarding their experience! CSAT (customer satisfaction) surveys work by utilizing a simple, easy to use 1-5 star rating system alongside a written comment.

Our solution allows you to track back low ratings and bad comments to the exact shipment that caused it. This allows you to confidently determine exactly which factor caused the bad rating. Was it the product or the processing time? To improve your customer order flow, you must first understand why you received a bad review.

You can access the customer feedback in one place without having multiple CSAT survey tools!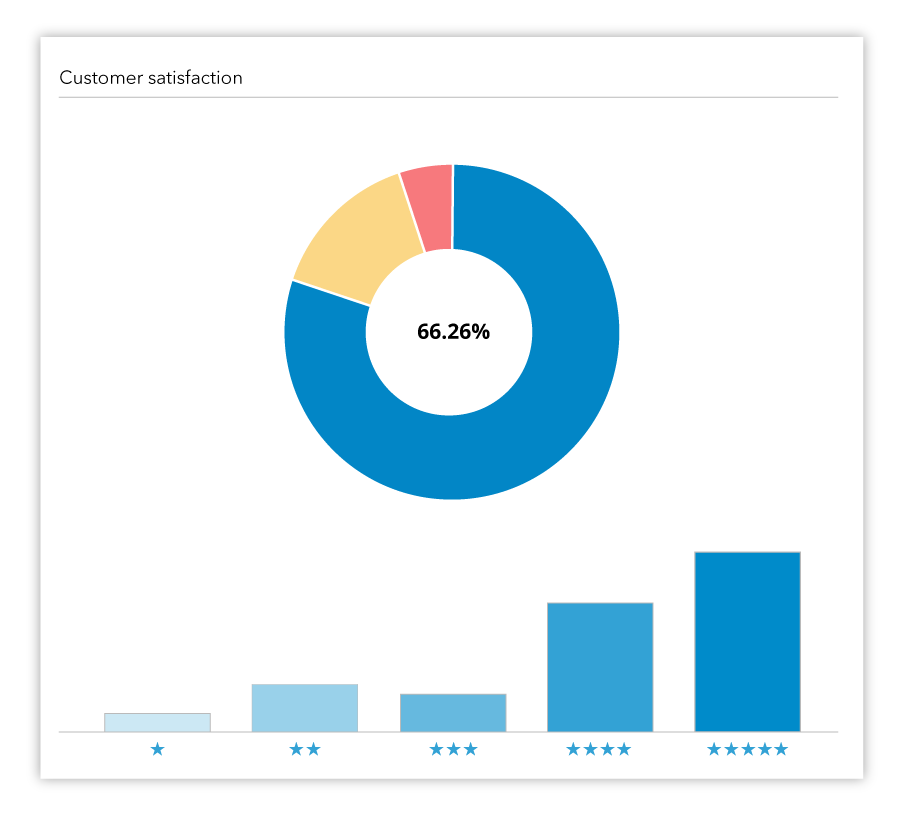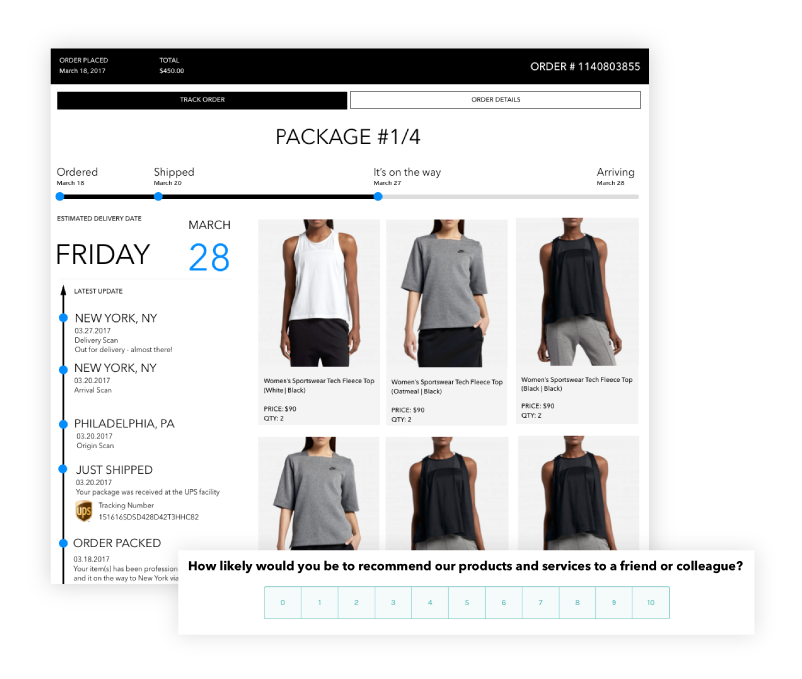 MAGENTO NET PROMOTER SCORE (NPS) SURVEY.
The Net Promoter Score is based on a simple question, "would you refer this business to a friend?" By understanding a customer's thoughts on referring you to someone else, you can see how likely they are to convert. Again, the key to tackling an issue relies on recognizing where it's coming from; product, pricing, overall experience, or other?

WeSupply goes beyond than other ecommerce tracking tools by taking care of the entire post-purchase experience, from start to finish
HOW TO INSTALL THE EXTENSION.
Step 1:
Before installing the WeSupply extension on a Magento 2 store, please check the extension compatibility. This extension is currently compatible with the following Magento versions: 2.0.X. - 2.3.x. It is recommended to install the extension on a testing server before installing it on a live (production) server.
Step 2:
Copy the extension files to below paths of your magento 2 instance. If 'app/code/WeSupply' folder is missing, please create it manually:
app/code/WeSupply/Toolbox
Step 3:
Access the root of your magento 2 project from command line and run the following commands:
php bin/magento module:enable WeSupply_Toolbox --clear-static-content
php bin/magento setup:upgrade

Step 4:
Flush any cache that you might still have enabled on your server or in Magento.
Step 5:
Woohoo, the extension is installed!
HOW TO UPGRADE THE EXTENSION.
Step 1. Remove extension code under app/code/WeSupply/Toolbox before adding the new extension files. The extension may be refactored and old unused files may cause random issues so it's best to only keep the latest version of the files.
Step 2. Follow normal installation instructions above.
Tech Specifications

| | |
| --- | --- |
| Compatibility | Magento Open Source, Magento Commerce, Magento Commerce Cloud B2B |
| Magento version | 2.1, 2.2, 2.3.x, 2.4.0, 2.4.1, 2.4.2, 2.4.3, 2.4.4, 2.4.5, 2.4.6 |
| Update frequency | Monthly or each time a new Magento version is released |
| Support period | 12 Months Included Support, with options to extend |
| Refund period | 30 days, for any reason |
| Updated | Oct 19, 2023 |
| Latest version | 1.11.19 |
| Code | 100% Open Source Code |
| Bundle options | For best value buy it as part of the Pearl Theme or Stack Framework |