MAGENTO 2 RETURNS AND RMA.
About Magento Order Status & Shipping Tracking Page with SMS Notification.
Ecommerce returns are on average 20% and often surges to 30% to 50% during holiday and special promotional seasons. Your customers often purchase multiple items with the immediate plan of returning some.
Stats show that:
- Around 40% buy multiple sizes or variations
- More then 75% of the returns come from repeat customer
- Around 90% of the people returned an online purchase.
- more then 80% of the customers will not do repeat business if the return process is complicated or inconvenient.
Without a return strategy and system in place you will find yourself hiring more workers, getting a bigger space for returns and establish entire departments only to process returns. On average it will take around 14 days for most of the companies to process returns, resulting is angry and anxious customers who will reach out to you multiple times regarding their money and status of the return.
"Blind returns" result in higher labor cost, and a less efficient process. Without a return flow tracking, your customers will reach out to you multiple times until they receive their refund. You will be often welcomed throughout the day by unexpected packages with unlabeled boxes. It is very important for your customer as well as yourself to understand the status and amount of incoming returns to schedule personal accordingly.

~ 67% of your customers will check your return policy before purchasing
~ 58% are not satisfied with the ease and flow of the return process
~ 72% are going to spend and buy more frequently from brands that make the return experience simple.
If your company is not prepared to accept returns easily, often the returned products will be stored in a corner and not considered as available inventory in the warehouse. Often these products will be available only at the next physical count, at that point often will be an aged product, heavily discounted.
Studies show that 10% of the supply chain cost is accounted for return and repair processes. But if the progress is not optimized it can result in 30% loss in profit. Building a streamlined return process will make the process less challenging and result in a more profit.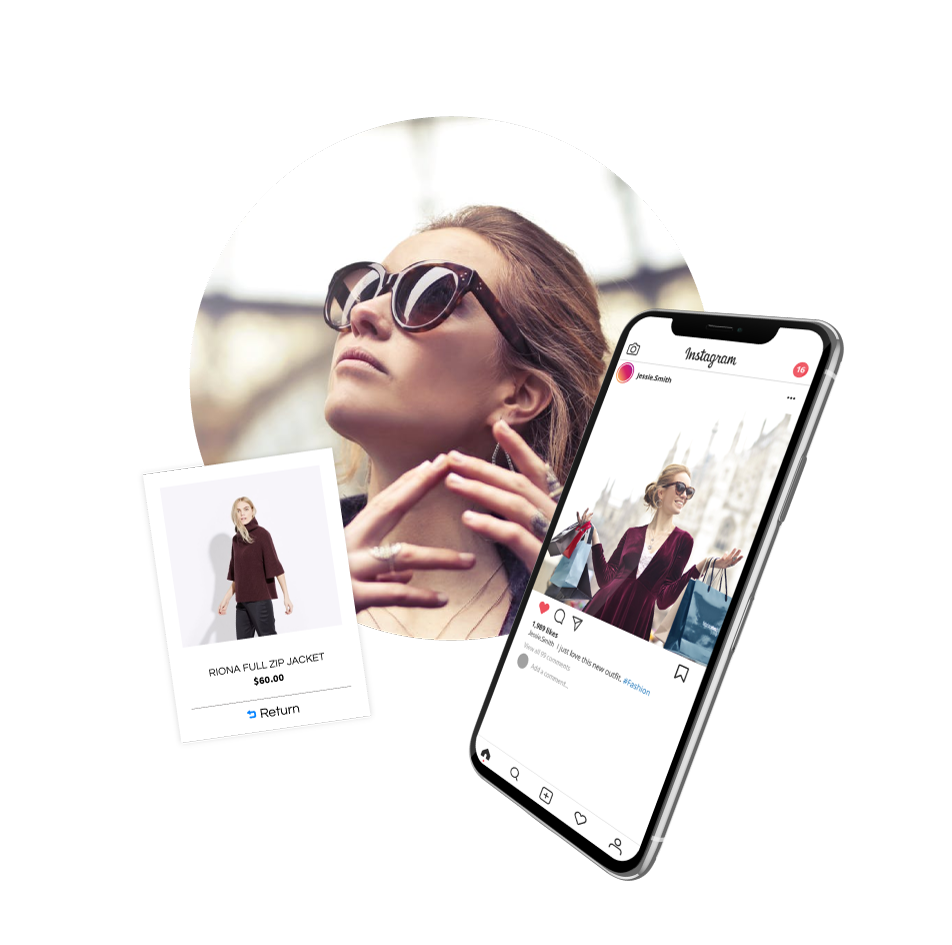 The Wardrober.
Your customers will often purchase a product, use it once and then return it. Due to increases adoption of Instagram and other social media platforms, this trend has been increasing rapidly. One of the most affected vertical is the fashion industry.
The "Try It On" Consumer.
These are the customers who order your products just for fun. Trying them on at home, without any intention of actually keeping the items.
The Fitting Roomer.
they replicate the brick-and-mortar shopping process of heading to the fitting room with different sizes and colors of the same item to eventually pick their favorite.
This behavior got even more adopted since Amazon introduced their "prime wardrobe" program. Segmenting your customers on the "return likelihood" is an important segment to have. You might offer free return promotion only to customers with a lower likelihood of returning purchases and focus on different promotions for segments known as being high returners.
A well-established return process is core to the customer experience. It often feels complex and a burden but with the right flow and system it can be a competitive advantage instead of a burden. Simple, transparent and generous return policy can earn customer loyalty.
Simple Self-Service Return Process.
Allow your customers to simply and easily submit their returns. The entire process is configurable and it's up to you to decide if you would like your customers to automatically get the return approved, provide shipping lables, and refund the funds. You can also allow your customers return the products to the nearby store by saving time an money on both sides.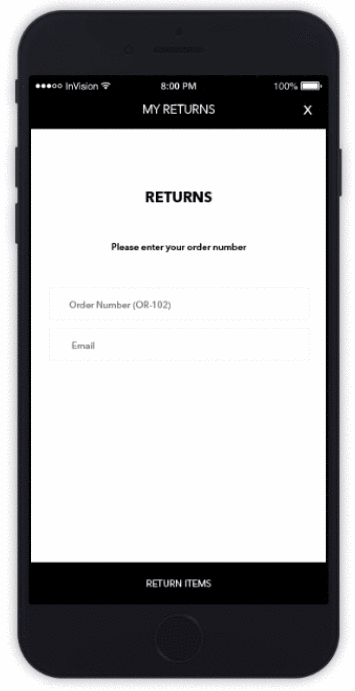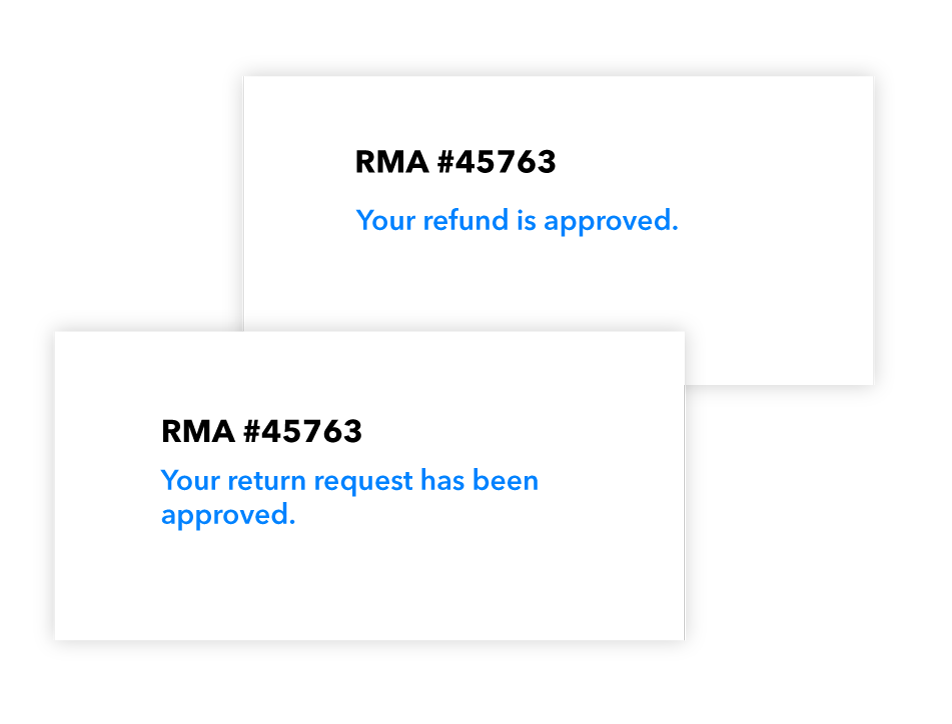 Track and Notify your customers about their return.
Offering your customers the ability to track and be notified about their returns is critical for the best customer experience.
Notifying your customer proactively regarding their return will significantly decrease your customer support requests and your customers will anticipate the return process completion.
Your customers are always informed regarding their returned package, if it got received, processed and if their money got refunded. Transparent return process will decrease customer contacts so you can focus on growing your business.
Make returns a priority!
Don't disappoint your customers, you have their money and your trust is at stake.
During the peak or holiday season, you will find yourself easily falling behind with your returns. Don't make that mistake, stay on top of it! Our return automation solution will help keep your promise by simplifying the flow and letting you know what is incoming so you can schedule best your team. Check daily on your incoming returns, your customers usually are very inpatient and they demand responses within a day, these actions can differentiate your brand from others.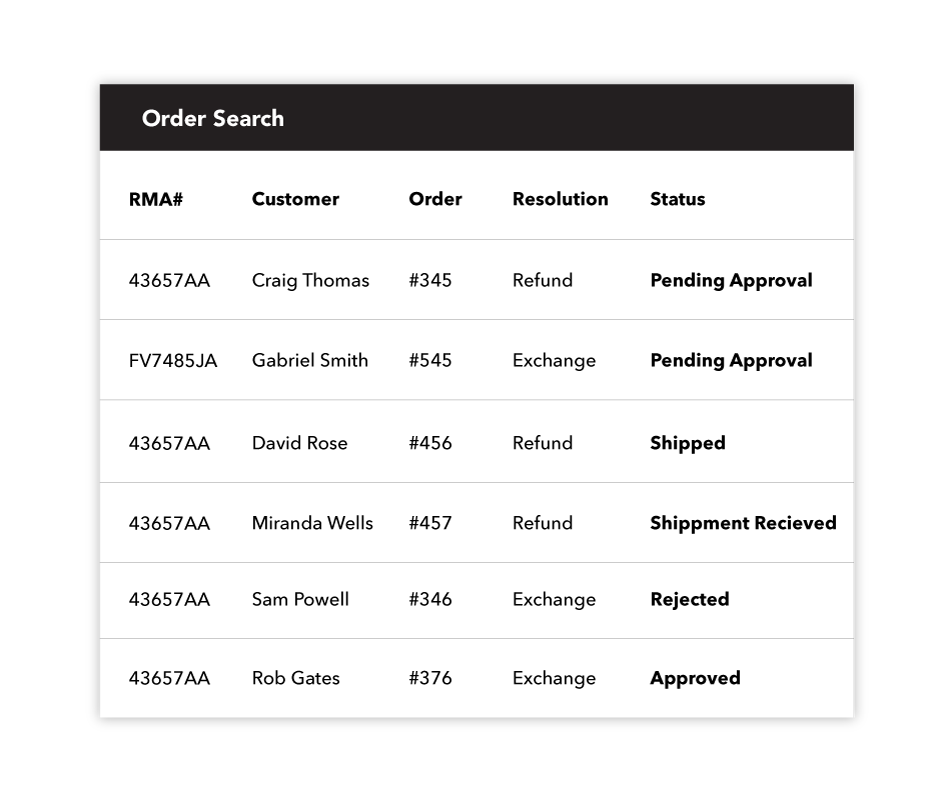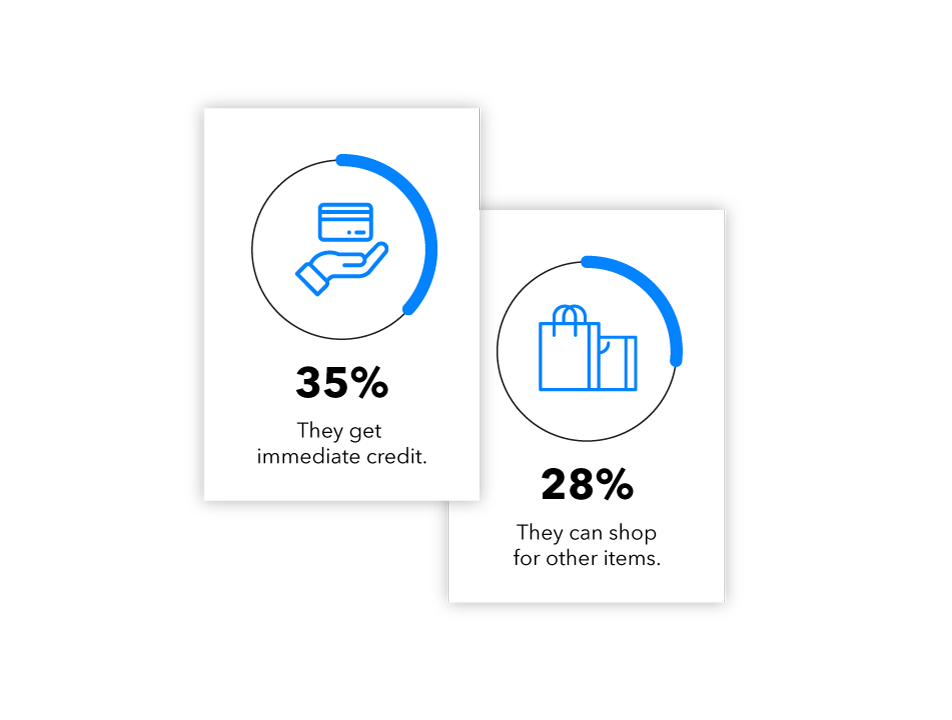 Drive in-store foot traffic with convenient returns.
If you have a physical store presence as well, close to 50% of the shoppers prefer to return a product in store due to some obvious reasons. Around 35% prefer this option as they receive immediate credit so they can use that credit to shop right away. 50% of the Affluent and Millennial shoppers, state that in store return is the preferred choice for online purchases when available.
Our solution offers your customer the quick opportunity to search for a near-by physical location that would accept returns.
Whille the customers are returning an item to a store, your customers are exposed to more products while they make the return. These customers will often shop right away for new products.

Use smart return rules to protect profit margins.
By using smart return rules you are able to customize the return policy for each customer based on your needs. You can protect profit by limiting returns on highly discounted products during major sale campaigns or during the holidays. You will now be able to adjust your return policy based on a specific product SKU or product attribute.
Other product scenarios may consist on high resell value, limited edition products, where certain customers will purchase the product only for resell purposes. As soon as the product hype is gone, or if they cannot sell the product for the desired amount, they will often return the product. This scenario is often used in the Sneaker culture.
Mystery boxes are as well often excluded from returns. The Mystery Boxes campaign has the purpose of selling out on various random products, highly discounted, randomly selected.
Some retailers will either not allow returns for such items or they will only offer store credit to their customers. During the peak seasons an automated return process will save you time as well as will significantly decrease the Customer Service touchpoints, ensure a better customer experience during the busiest times. To stay on top of the experience a streamlined tracking, notification and return process is a must.
Turn returns into new orders!
Marketing Assests & Product Recommendations.
Make every experience shoppabe! refund is no exception to it! Showcase your customers alternatives or introduce them to new products or sales.
Store Credit and Gift Card.
Don't let your customers wait for the refund, enable them to purchase right away by offering them Store Credit or Generate a Gift Card while you take care of the return.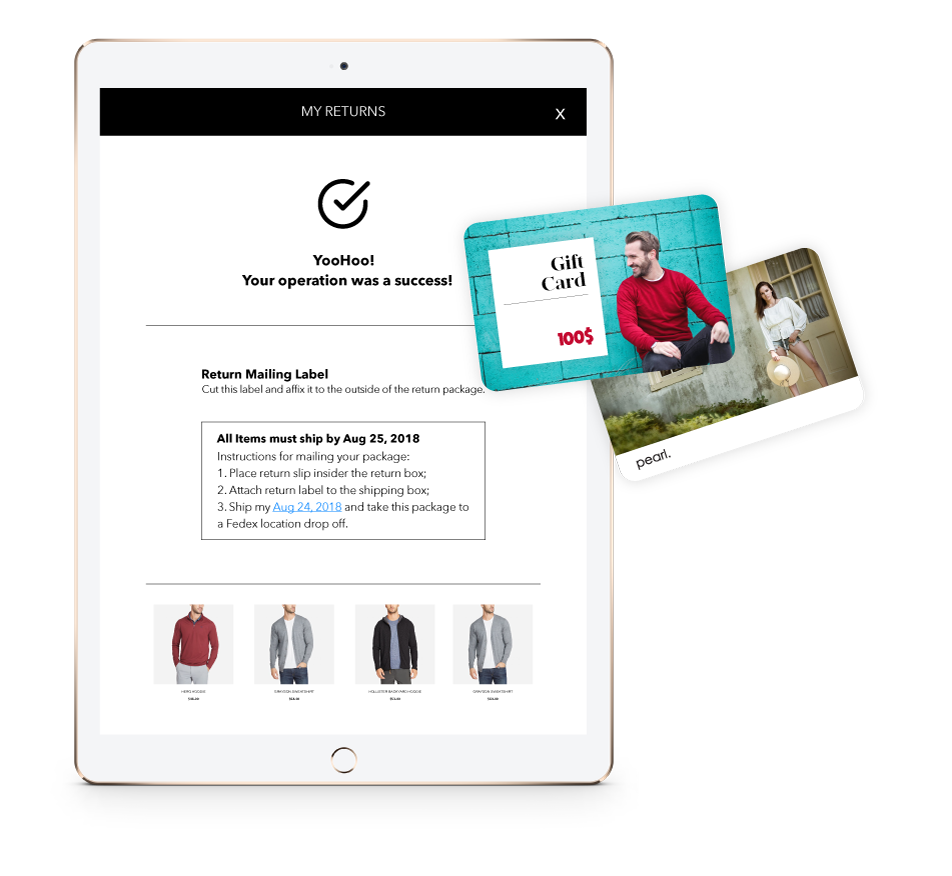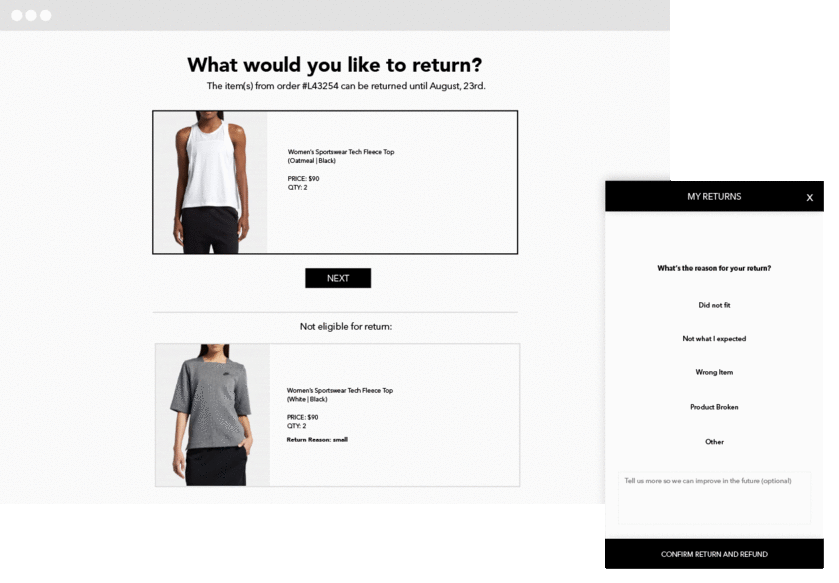 Investigate, analyze and optimize your return process.
After the holiday season or major events, your return rate might increase dramatically. It is very important to analyze the data captured during this time so you can improve your policy, processes and return logistics. We offer multiple data points to help you analyze and improve your return flow. Understanding why your customers are returning their products is critical towards improving your services. Customer satisfaction and Net Promoter Score are two additional customer feedbacks that can tremendously help for improving the return experience. You can survey NPS specific for returns. For example you will be able to identify that you have a specific sizing issue in a specific category or quality issue with a manufacturer.
Identifying these pain pints are the areas where you should make improvements. Focus on these until you fully optimized your return process and make sure that you constantly keep an eye on the analytics so you get real customer feedback.
Your Customers are going to return the favor.
Your customers are going to make returns more often as companies such as Zappos and Amazon are offering free shipping and returns. The new Amazon Prime Wardrobe with free Try on at home will educate and encourage your customers to do so and your customers will demand this from your brand as well.
There is a good side to this as well. Your customers will be more loyal to you if your return policy is generous. They will have a higher average order value, will increase the purchase frequency, and you will be able to experience an incremental lift in the conversion rate. 89% of the customers who have a good return experience are likely to purchase again. A generous return policy with a profit protecting strategy will result in a great return experience, which is a leading indicator of customer loyalty and overall customer retention.