Magento 2 - Instagram integration.
Nowadays, Instagram is all the rage! It's a great platform for sharing photos and ideas as well as for engaging with your followers. It's also a great place to promote your business and the values associated with it, which can help you secure customers before they even visit your store! If you haven't created an Instagram page for your brand yet, doing so should be one of the first steps on your marketing roadmap.
Great news! You can connect your store to Instagram in under a minute with our Instagram Feed Extension for Magento 2, no coding needed, by using an efficient and easy-to-configure widget. 
There are numerous methods of integrating Instagram with Magento 2, however, unlike other solutions on the market, our extension is the only one that allows you to achieve all this with a one-time payment by purchasing the extension. All the other modules try to get you to sign up for a monthly subscription model that doesn't come cheap in the long run!
With our own, you can insert it on your Home Page, Category Pages, Product Pages, and any other CMS Pages so you can start getting closer to your customers and sharing your brand's values anywhere on your store! Keep reading on to see just how you can do that.
Download the extension here: MAGENTO 2 INSTAGRAM FEED WIDGET
How does the Instagram Feed Extension help my store?
The module brings about a whole new dimension of marketing possibilities to your Magento 2 store. It lets you organize and share relevant content, as well as customize the way this content is shared. For instance, if you sell apparel, you can showcase specific product combinations, such as a jacket and a hat that go together in a natural way that doesn't scream "marketing".
Every business is different, but methods of intelligently shining the spotlight on what matters are something that every business needs. Here are just a few key features our module brings to the table:
It's insanely easy to configure and set up - All you need to do is insert the widget and configure it to your liking, add your desired Tag or User ID and save the page!
You can display multiple feeds from multiple users - This is very useful if you have multiple brands!
You have various design and layout options available - You can choose the container background color, set a custom title, choose how many images you'd like to show in total, as well as how many you'd like to display per row.
These are only a couple of the features the extension comes with. Check out the rest on the Product Page here: Magento 2 Instagram Feed Widget. Let's see how easy it is to add the widget to our Home Page.

How to add the Instagram Feed Widget to your Magento 2 store.
1. Editing your Magento 2 CMS Page
Head into Admin -> Content -> Pages, pick your Home Page from the list, and hit the Edit button.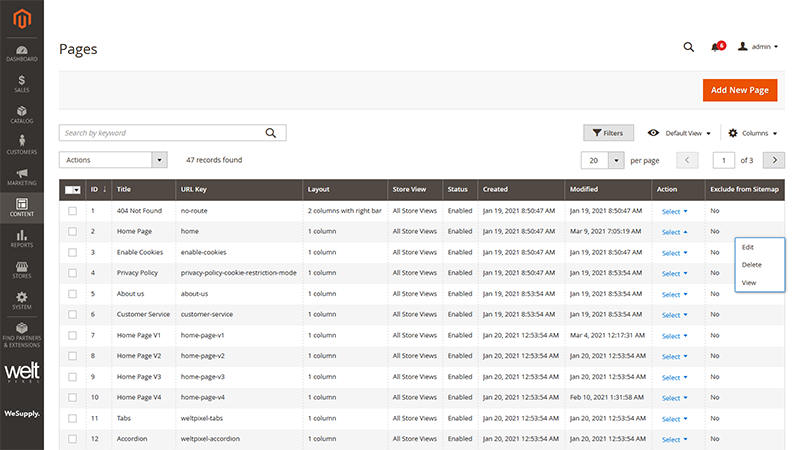 2. Inserting the Instagram Feed Widget into the Magento 2 CMS Page.
In the Content tab, hit Insert Widget and select the WeltPixel InstagramWidget option in the dropdown list.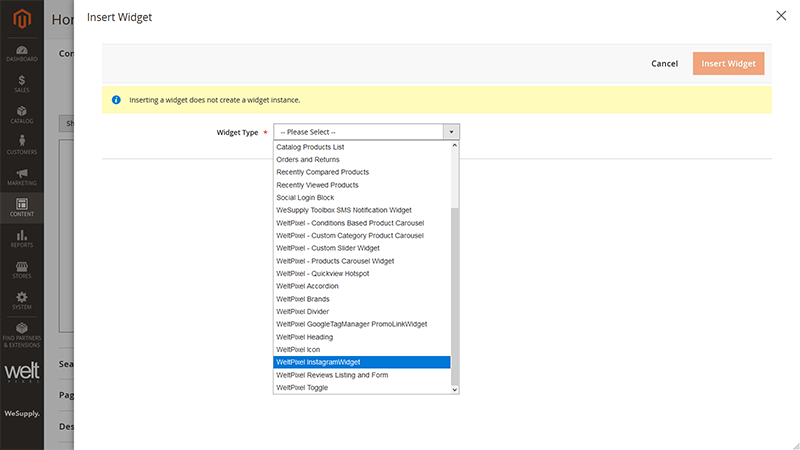 3. Configuring the Instagram Feed Widget options in the Magento Admin.
Note: Make sure you're using the Javascript Fetching API Type, as the Old API type has been deprecated.
Configure the display options as you like, and set the Feed Type to Tag or User. Add the User ID or Tag Name and click Insert Widget.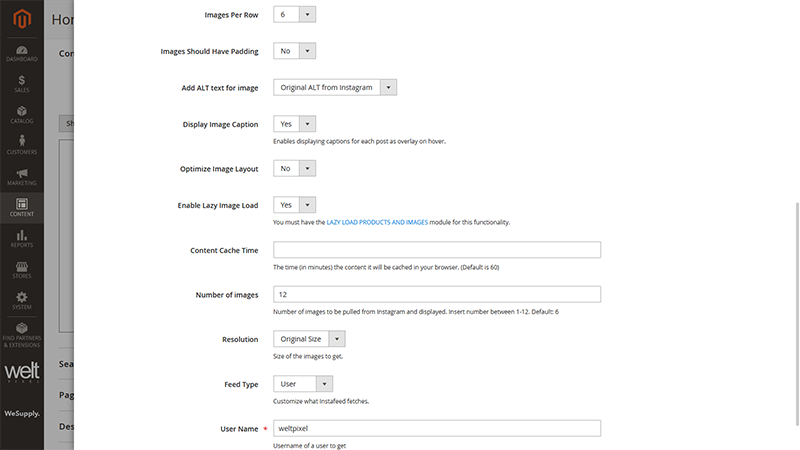 4. Displaying the Instagram Feed Widget on the Magento 2 Frontend.
Save the page and reload the frontend. Congrats! The Instagram Widget should now be showing on your Home Page!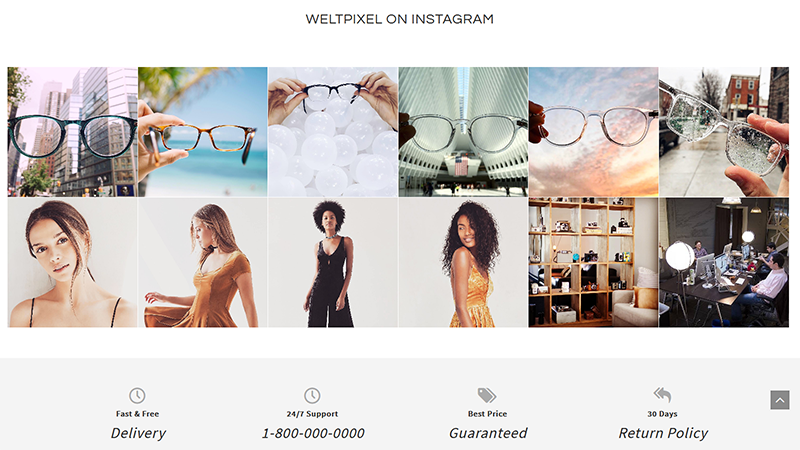 Conclusion on connecting Instagram with Magento 2.
By following the steps above, you can connect your Instagram Feed with your Magento 2 store in under a minute. As such, you'll be sure that you're abiding by a best practice that's used by most major brands in the industry while at the same time promoting and showcasing images that reflect and underline your own brand's identity.
Download the extension here: MAGENTO 2 INSTAGRAM FEED WIDGET