Magento 2 Smart Product Tabs
About SMART PRODUCT TABS FOR MAGENTO 2.
Deliver excellent browsing experience for your customers by dynamically showing tab custom blocks based on product attribute options.
This extension for Magento 2 gives you custom control over your product page tabs and their dynamic content. You can configure product tabs to display custom content based on product attribute values using specific static blocks, without the need to touch any code.
Default Magento doesn't give you proper control over your product tabs and their content, making product page content customisation extremely limited. Smart Product Tabs allows you to configure new tabs content based on the value of any attribute. You can create tabs directly in Magento admin and when visibility conditions are met the tabs containing the specific block will be displayed in frontend as a new tab on product page.
This will help to dynamically show specific product information only for certain products, based on material, size-chart, country of manufacture, man/woman, price, promotion, product features etc... Applicability of this functionality is wide, can be adapted to any business model in order to increase store usability.
Features of the Extension.
Display relevant content - display relevant content to customer based on product type and attribute values
Increase conversions - use rich relevant descriptions and improve conversions
Reduce return rate - help buyers find the best product for them using specific relevant information
Reduce bounce rate - describe the product better and reduce bounce rate
Rich product description - use smart static blocks to create rich descriptions for your products
Save page space - use the smart tabs and save page space
Increase store usability - help users engage with your store
Easy to use - no coding needed
How to Install the Extension:
Step 1:
Before installing Smart Product Tabs Extension on a Magento2 store please check the extension compatibility. This extension is currently compatible with the following Magento versions 2.0.X. - 2.2.2. It is recommended to install the extension first on a testing server before you install it on a live (production) server.
Step 2:
Copy the extension files to below paths of your magento 2 instance. If 'app/code/WeltPixel' folder is missing, please create it manually:
app/code/WeltPixel/Backend ( download Backend from HERE if missing )
app/code/WeltPixel/SmartProductTabs
Step 3:
Access the root of your magento 2 project from command line and run the following commands:
php bin/magento module:enable WeltPixel_Backend --clear-static-content
php bin/magento module:enable WeltPixel_SmartProductTabs --clear-static-content
php bin/magento setup:upgrade

Step 4:
Flush any cache that you might still have enabled on your server or in Magento.
Step 5:
Woohoo, the extension is installed!
HOW TO USE THE EXTENSION
STEP 1
Smart Product Tabs works only with Dropdown product attributes.

You can use one of your already created attributes of type dropdown, or you can create a new dropdown attribute in Admin Store >Attributes > Products and add you options.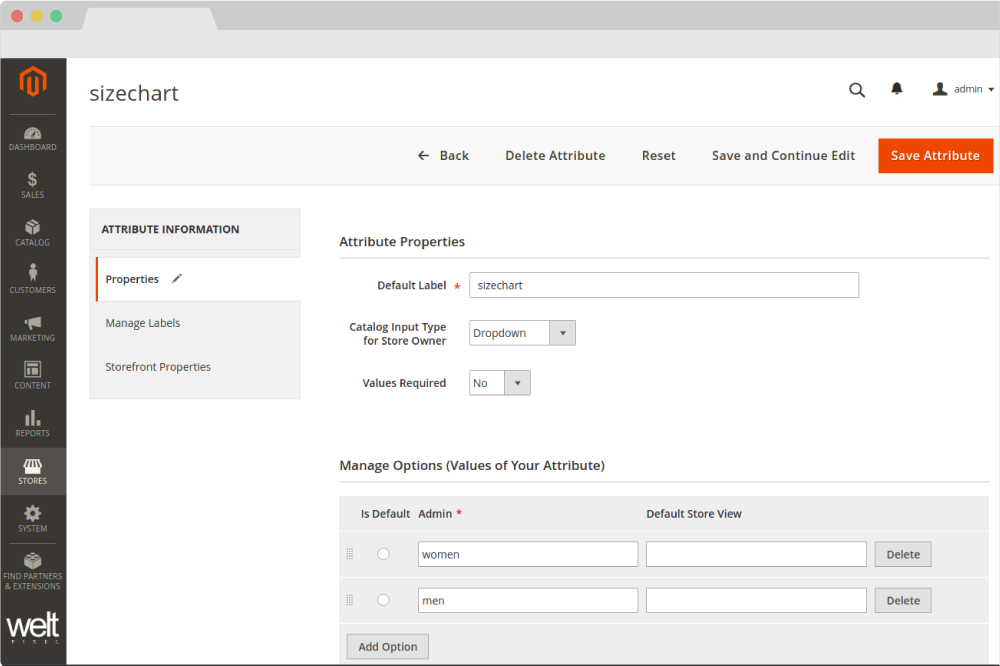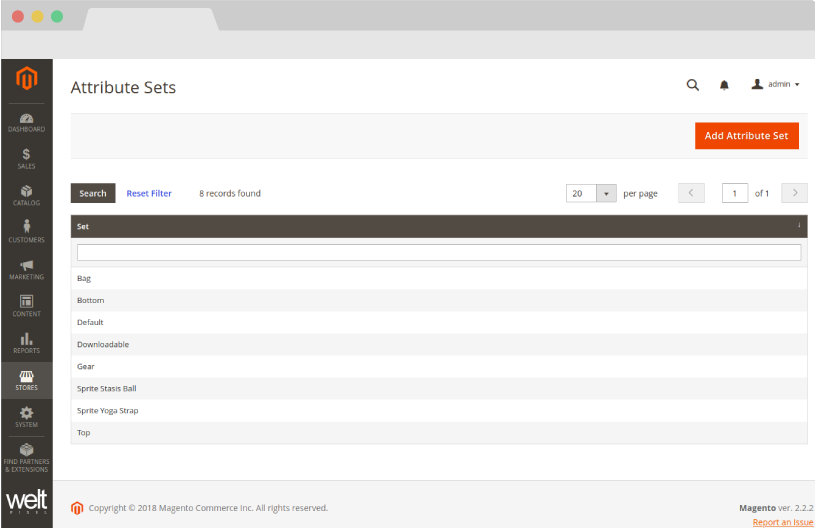 STEP 2
Go to Admin > WeltPixel > Smart Products tab menu, activate the extension and set your tabs. You can insert up to 3 new tabs to be displayed in the product page. From this settings area you should choose based on which attributes you wish to deliver relevant content to customers and you can set displayed name for each tab.
STEP 3
Go to Admin > Content > Blocks and create blocks for each option of the attributes. Block identifier name must have the following syntax:

smartproducttabs_attributecode_option

( Smart block name example : 'smartproducttabs_color_blue' or 'smartproducttabs_material_cotton')

Replace attributecode_here with your attribute code, and attribute-option-here with option of the attribute. Do not replace 'smartproducttabs_' prefix and insert underscore between the prefix, the attribute and the attribute option. If an option has words separated by spaces, replace the spaces with - (minus) sign.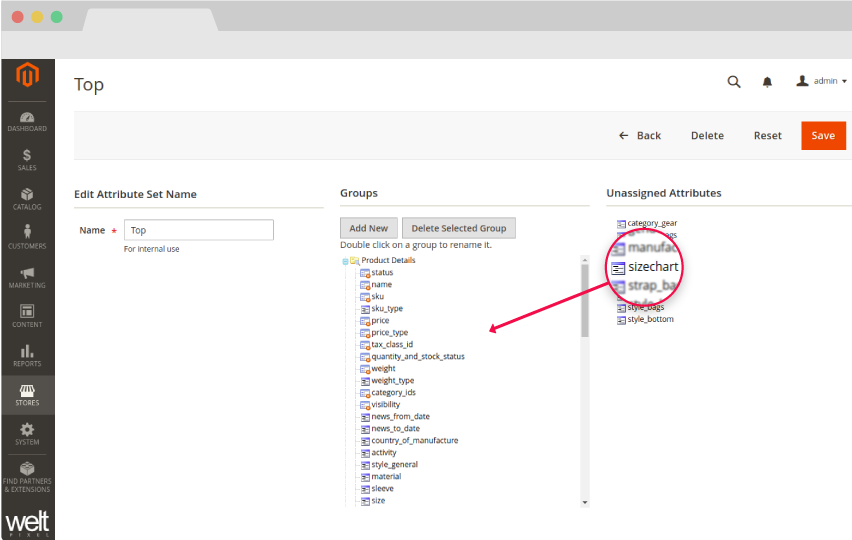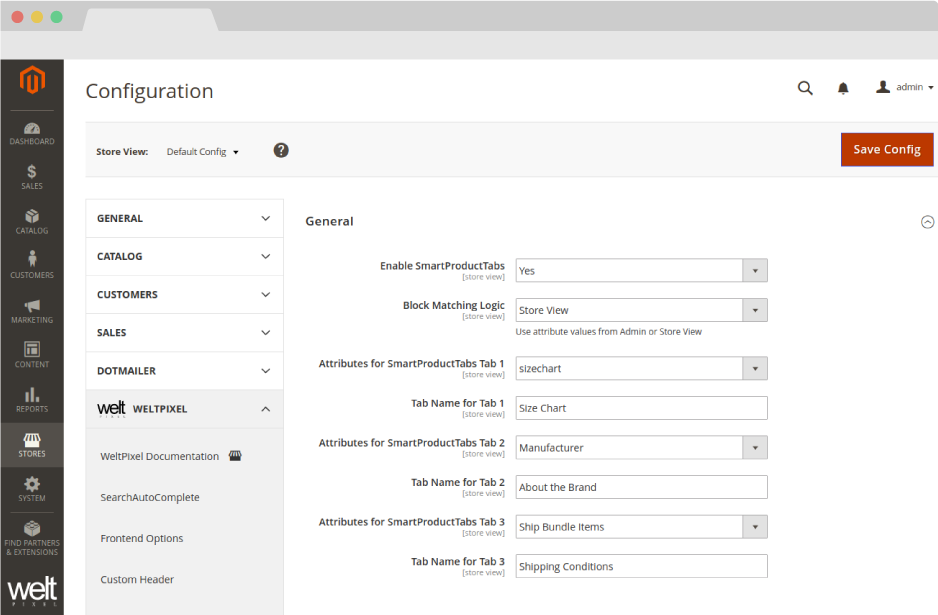 Step 4
Go to Admin > Products > Catalog and and make sure you have set up correctly the attribute options for your products or set the options for new created attributes. For each option setup you must have a block created as specified in step 3.
Step 5
Go to your store frontend and check the results.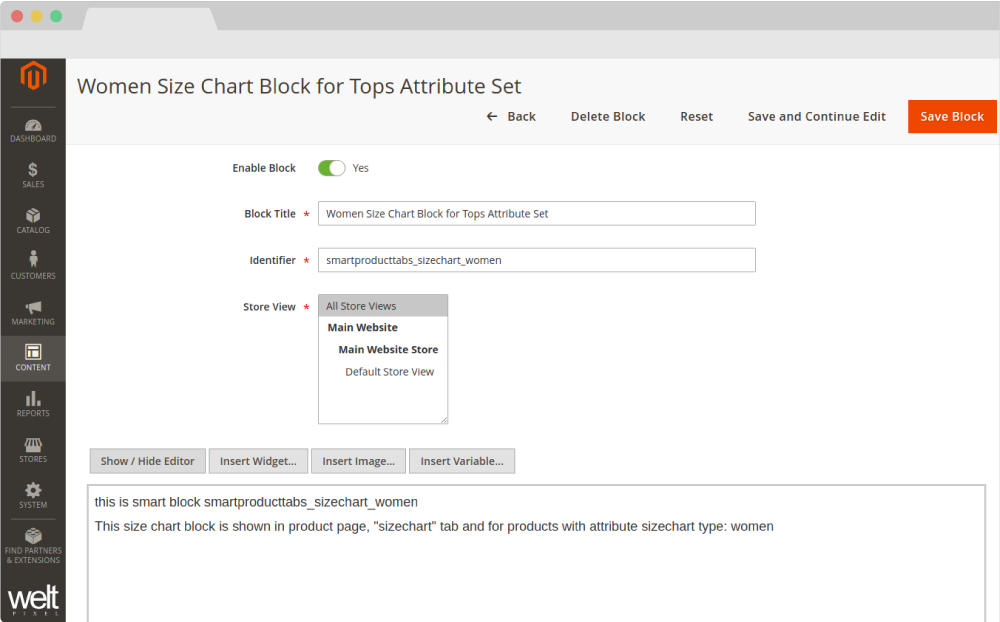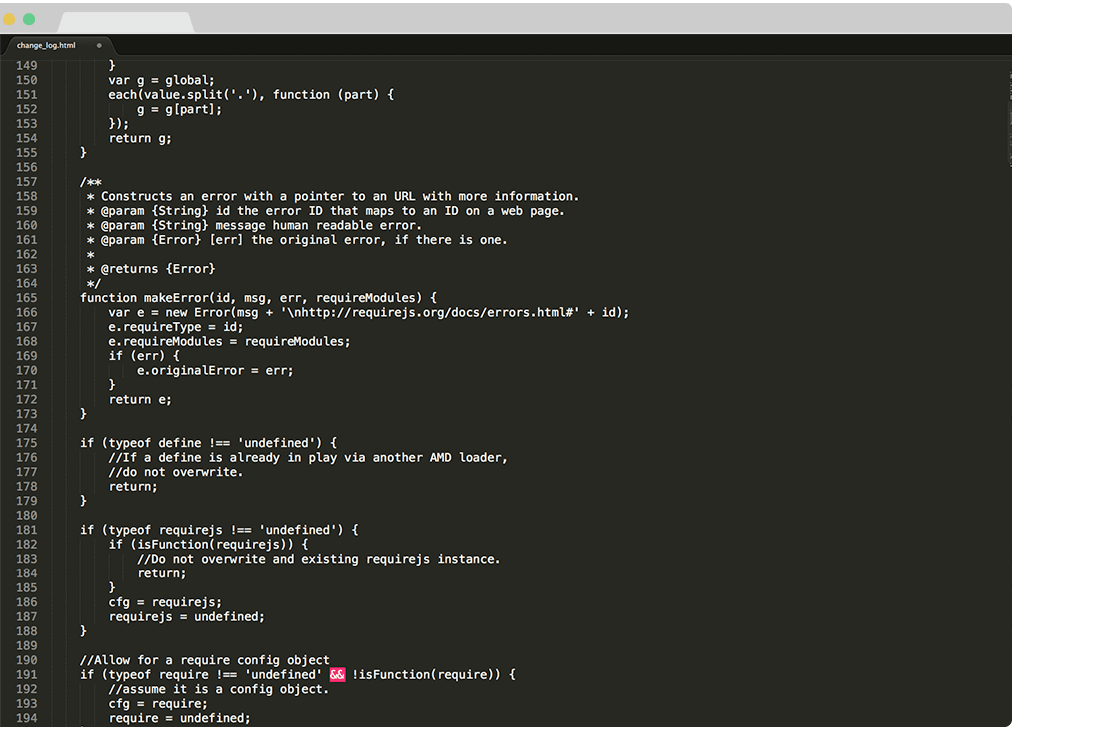 Change Log.
What's new in v.1.5.7 - December 14, 2017
Added Support Center functionality in Magento Admin.
Added Debugger functionality, checks for rewrites and points potential issues.
Admin module name changes.



What's new in v.1.5.3 - September 20, 2017
Checked compatibility with Magento 2.2 and PHP7.1 - all ok, updated composer.



What's new in version 1.0.2 - May 16, 2017
Added translations files under /i18n/en_US.csv.
What's new in v.1.0.1 - 10/10/2016
Composer dependency version changes
What's new in v.1.0.0 - 08/09/2016